Training Families
In an environment of love, discovery, and adventure we inspire and empower families to achieve excellence.

We serve families looking for the best vacation ever that are also committed to taking their family to the next level of love and effectiveness. We work with good families that want to become EXCELLENT! We don't just train families; we help them transform!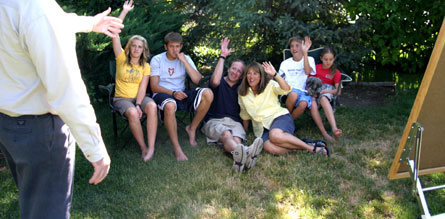 The LIFE Difference
There simply is not another family transformation program that can match the offerings of LIFE Family Adventures and Training:
With your family's cooperation and to assist us in customizing your training experience, before you arrive for your training and adventure we will have already begun the assessment process, determining the family's strengths as well as some of the areas of challenge you might be experiencing.
Then your family will dive into an all-inclusive vacation at one of our two beautiful Utah cabin facilities, both offering endless family recreation possibilities whether high adventure such as ATV safaris and wave runners, and winter snowmobile expeditions, or the more contemplative activities of hiking and swaying in a hammock by the shore.
Highly effective and transformational family training is woven throughout the vacation experience with many of the recreational activities serving as the backdrop to and the hands-on portion of that training.
Next, as part of the training package, we deliver post-training coaching to provide support to your family as you return home and pursue your goals.
Finally, your family will have access to a host of other information, benefits, and services from the Life Institute of Family Excellence, and will automatically qualify for significant discounts on other training programs in which you might choose to participate.