Family Trainings FAQ
In an environment of love, discovery, and adventure we inspire and empower families to achieve excellence.

Questions
Answers
Q: What is happening with families now? Why does it seem so much harder to build and maintain a strong, loving, and effective family?
A: The world, as a whole, can weaken and marginalize those families not prepared to recognize and respond to the constant pressures and demands that our society places on our time, attention and energy. It is hard for the family to compete with those demands and with the generally negative media barrage that has come to define our modern culture.
None of us come from a perfect family, so the blueprint we might carry in our minds won't necessarily lead to the successful family we dream of. And our society places little emphasis on helping people prepare for the challenges (as well as the opportunities) that are encountered as we build our families.
Fortunately most families, even those that might feel that they are really struggling, are usually just a relatively few degrees off course and with some directed and coordinated effort can again line themselves up with their desired destination of joy and effectiveness.
---
Q: What are some of the qualities of a Family of Excellence that LIFE can help a family attain?
A: Creating a family of excellence is the work of a lifetime. We need not achieve that goal in a day, but neither should we put off beginning the journey. Even as we simply strive to improve we will experience joy and fulfillment commensurate to our efforts. Most excellent families are successful in or working towards many of the following goals:
They are committed to the family
They love and appreciate one another and make time for the family
They actively seek to create joy and accomplishment in the family
They support one another in achieving excellence in school, career, relationships, and every worthy endeavor
The family and each member is accountable for their actions and results
They communicate with kindness and authenticity
They solve problems and surmount obstacles efficiently
They create a haven of safety and security in their home and within the family circle
They serve one another and the world
They are spontaneous and have fun and laugh together
They are trusting and trustworthy
They are united in their goals and aspirations
They help fulfill the worthy needs of each family member
They help one another to heal the inevitable wounds of life
They forgive one another and seek forgiveness
They help lead the world away from the darkness and towards the light
---
Q: How does LIFE seek to help a family achieve its growth objectives?
A: It is really a multi-layered process. First, building on what nature has so abundantly provided at Gunnison Bend Reservoir in Delta, Utah and in the mountains of Scofield, Utah, we have created an environment where fun and high adventure are a part of the every-day norm, but that is also conducive to relaxation and introspection. Families will feel the reconnection and strengthening of family bonds as they play and relax together.
Through facilitated discussion and training times, campfire programs, a spiritual Vesper Trail, and other teaching/learning moments the family has opportunity to examine and commit to a set of principles upon which they can continue to build their family and their own personal character. The family will receive the training, tools, and resources that will prepare them for the next great adventures of life.
Finally, appropriate challenges and adventure activities are offered to the family not only to provide fun and family bonding, but to also ensure a continual hands-on element of the training. For example, what better way for a family member to learn and internalize principles such as accountability, communication, and leadership than to plan and carry out a significant family activity, such as an ATV safari? Read about how we work with families in this scenario.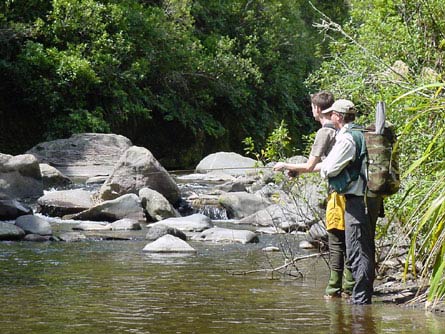 ---
Q: What about the free post-training Life Coaching? What is its purpose?
A: Most of us, whether in our experience with New Years Resolutions or perhaps other training programs, have gone through an initial period of excitement and commitment as we set out to make changes, only to see our own ineffective fixed beliefs, and the inertia and obstacles of real life knock us off our new-found track and back into the middle of our old shackled comfort zones. The hands-on and experiential elements of our training will help you internalize the principles and tools, but we take things a remarkable step further to help your family avoid the regression to former habits and patterns.
Through a series of post-training Coaching calls with the family and individual members our training staff, which is very well acquainted with you and your goals by now, will offer encouragement and support as you work towards your goals. We can't do it for you, but we can remind you of your training and the principles learned and help you develop creative and successful ways to surmount obstacles and take full advantage of opportunities.
---
Q: What are some of the principles around which you build the training, and why these specific ones?
A: The family and individual experiences and learning will be as unique as each family and person. But there are two foundational realities upon which our training philosophy is built:
We subscribe to the truth that virtually all inappropriate choices and actions that damage lives and relationships spring from deep and unmet needs in the physical, emotional, mental, or spiritual realms. Our trainings address that reality and facilitates families and individuals identifying those personal areas of need, and developing healthy means and processes for them to be met within the family structure.

Certain eternal and unchanging principles form the bedrock upon which ALL meaningful and joyful lives are built. Among those are:

Accountability; always a creator, never a victim.
Problem Solving; because the purpose of life is to learn.
Trust and Integrity; because sometimes it is more important to be trusted than loved.
Love and Unity; because there will be no empty places at our family table.
Communication; because authenticity is the language of love.
Forgiveness; because it liberates us to love again.
Commitment and Faith; because they unlock the powers of the universe.
Leadership; because we are either being led to the darkness or are leading to the light.

These principles are in turn supported by other principles and virtues essential for any family seeking to excel. These include Kindness, Service, Perseverance, Patience, Prioritizing, Seeking the Win/Win, Planning, and Work among others.

These are not fads. They are not catch phrases from the latest self help book. They are not the win-at-any-cost strategies of so many other trainings. Make these a part of your life and the winds of life and expediency need never knock you off course again.
---
Q: What experience and skill set do LIFE Trainings and Adventures possess to be able to deliver on its objectives in serving families?
A: It rests on our belief in and commitment to family. LIFE is made up of professionals that have experienced the highest exhilarations of family relationships and that have not been immune to the pain that comes in this, the highest stake endeavor any of us will ever be involved in.
Gerry and Margo Dye, owners and lead trainers at LIFE, have combined their experience to create the unique and highly effective LIFE programs. Gerry is a professional developer and deliverer of training and education programs. His programs have touched thousands of people and have been used on five continents and in 47 countries. Margo Dye has been a professional nurse for more than 25 years, with her focus being in the field of mental health care and behavioral treatment programs in clinical and hospital settings.Margo has over 12 years professional experience in clinical behavioral treatment facilities. Margo and Gerry have focused their attention entirely on Marriage and Family Training programs. Other staff members bring additional skills and experience to this powerful combination.
Certified professional Mediator
University Degrees and Certifications in Youth Leadership and Recreation
Professional care givers in mental health care
Staff members with professional staff experience at Boys and Girls Clubs of America
Staff member with staff experience from Children and Family Crisis Center
Certified Ropes Course and climbing staff and facilitators
Certified Bio-Feedback specialist
All staff members are Certified and/or experienced and approved staff from other recognized training programs (family, individual, and professional)
Authors in the area of family health and recovery
Experienced trainers in relationship dynamics
---
Q: Is LIFE Trainings and Adventures a professional counseling organization?
A: No. LIFE is a professional training organization dedicated to teaching principles and processes that can help families become happier and more effective. While our vacations and trainings are indeed therapeutic, they are not designed as traditional mental health therapy.
If a family or individual is under the care of a therapist or mental health provider, it would be our intent to appropriately support such care through our training, without detracting from it in any way.
---
Q: How do you deal with the inherent challenges posed by training families as opposed to just individuals?
A: We define ourselves by this vision: "In an environment of love, discovery, and adventure we inspire and empower families to achieve excellence." While we offer great training programs to couples and youth, it is our family training programs that truly set us apart.
While there are plenty of personal trainings available in the marketplace, effective family trainings are hard to find. This is largely due to the fact that few can figure out how to train the mixed bag that is a family.
A family, with its wide range of adult and youth learners, sexes, preferred learning styles, psychological dimensions, etc. presents a daunting task for a trainer trying to make the family fit into a certain presentation and set of training exercises.
We have emphatically overcome those challenges by first embracing them. We make no attempt to cram a family (made up of round and square peg/members) into a pre-set hole of slide presentations, exercises, and bio breaks...We teach principles through a variety of teaching/learning methods then allow them to be experienced and internalized through the activities of a fabulous family vacation and adventure.
We maintain the commitment to the family and its success through a series of post-training coaching calls designed to assist the family and its members through the real world challenges that they will inevitably encounter.
Your family will very likely have more fun and excitement than they have ever experienced before. And our guarantee is that you will leave us a better family, on your way to becoming a family of excellence!