Frequently Asked Questions (FAQ)
In an environment of love, discovery, and adventure we inspire and empower families to achieve excellence.

Questions
Answers
Q: What is the purpose of the Assessment Tools that you offer to any family (or couple) desiring to use them?
A: Every family is a work in progress. The key to the Family Assessment Tool is its ability to help identify not only the areas of concern in the family dynamic, but to also highlight the strengths that your family possesses so that they can help form the basis of the family transformation.
Even highly successful and effective families often drift off-course and have pressure points and areas of contention in their relationships. The difference is that they recognize the areas of challenge and are actively engaged in finding solutions. Research and experience have shown that a professional assessment tool can assist a family to rise above their biases and emotions to develop a clear picture of strengths and weaknesses. Identifying the issues is often half the battle in healing and strengthening your family.
We have analyzed and tested many assessment tools and have selected one developed by a major U.S. university for use in our work with families. This professional tool is used in family research and counseling programs around the world and now you can have access to it without cost or obligation. To use this valuable and easy-to-use resource click here. If you have questions about the Assessment Tool please contact the Institute. You can also find a Marriage Assessment Tool in the LIFE Couples Retreats and Trainings section of this site.
---
Q: Where do the LIFE Trainings and Adventures actually take place?
A: While LIFE is best known for our trainings that take place at our two Utah cabin facilities (see below), we conduct trainings and programs in other environments as well:
We conduct seminars in many towns and cities
We take special training to clubs, church groups, and other organizations
We do special consultations in client's homes
Our Couples Retreats can be conducted in any number of cities and vacation destinations
All of our major trainings "travel" well and can be held virtually anyplace where we can provide our signature of the greatest vacation combined with the greatest training ever.
---
Q: Tell us more about the Adventure and Training facilities.
A: Everyone knows that Utah is a great vacation destination for anyone, particularly for outdoor enthusiasts. Utah is home to six National Parks, including Zions, Bryce Canyon, Arches, Canyonlands, Great Basin, and Capitol Reef. We also boast 45 state parks celebrating the natural wonders as well as the rich history of our state.
The variety of landscapes within the states borders is second to none. From pristine mountain lakes and forests to vast red rock deserts, and everything in between, Utah has it all. Our two cabin facilities show the desert and alpine mountain geographies at their best and are perfect for that once-in-a-lifetime family vacation, as well as for the transformational training that is our forte.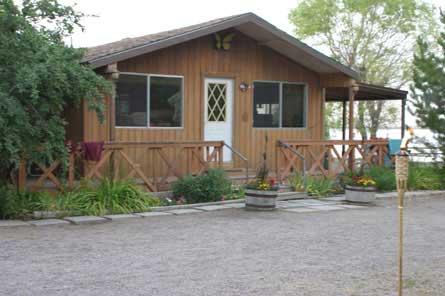 Gunnison Bend Reservoir, Delta, Utah (120 miles southwest of Salt Lake City)
Our Delta property is less than 10 steps from the water on the shores of Gunnison Bend Reservoir, a beautiful lake formed by the Sevier River. The Reservoir is a water sport paradise and visitors to our facility can expect plenty of water skiing and wakeboarding, wave runners, canoes, paddlewheel boats and many other wet and wild activities. A sandy beach, lots of shade trees and a huge lawn mean plenty of places to relax with a good book or for some serious sunbathing. As Gunnison Bend is something of an oasis in the desert, it is a magnet for birds of all types including ducks, geese, herons, eagles, loons, and dozens of other species.
The cabin is in a rural setting and nearby are the desert, mountains, and canyons that Utah is so well known for. The area is a geological wonderland and is recognized as arguably the finest rock hound destination in the country. If you are ever in the Smithsonian Museum, try to count the number of terrific geological specimens that come from the Delta/Milliard County area. We have tried but always lose track!
Such a combination of desert, canyon, and mountain terrain is heaven for exploration from the seat of All-Terrain-Vehicles (ATV's), on horseback, on a mountain bike, or just with a good pair of hiking shoes. It is our pleasure as part of our all inclusive adventure/training programs to help our guests discover unforgettable sights and experiences that are the essence of Utah and the West.
The cabin is a cozy two bedroom with two queen size beds in one large bedroom and a set of bunk beds in the smaller bedroom. There are also two queen size fold-out beds and two portable single beds if needed. Two bathrooms provide plenty of space for everyone. A large porch and deck area wrap around three sides of the cabin and offer plenty of space for relaxing and outdoor dining. A fire pit with built-in seating lays just a few steps from the lake and is a wonderful place for those special family evenings of songs and stories.
Note: For some Youth Trainings participants might be housed in spacious and comfortable safari-style wall tents. These large tents with lights and comfortable beds are also available for families wishing to "spread out" or add an extra element of adventure to their experience.
Scofield Reservoir, Scofield, Utah (120 miles southeast of Salt Lake City)
Our mountain retreat is in the beautiful Wasatch Mountains near the tiny community of Scofield. The cabin sits on an aspen and pine covered hillside overlooking beautiful Scofield Reservoir and is just over a quarter mile from the shore. While this mountain lake is a bit chilly, during the summer months it provides great water skiing, wakeboarding, wave running, and canoeing.
Scofield Reservoir and the streams and river that feed and drain it provide one of the finest trout fisheries in the state. Spin-casting and fly fishing produce large and abundant catches whether your forte is the lake or the streams. The Price River is renowned as one of the finest fly fishing destinations in the country, and Huntington Creek is a well-known blue ribbon fly-only stream. And when you hook one of the big Cutthroats in Fish Creek, you will know fishing Nirvana. It will be our pleasure to show you the secret holes whether you are a beginner or a longtime angler.
The mountains around Scofield boast hundreds of miles of trails for ATV's, horses, mountain bikes, and hiking. Deer, elk, moose and a hundred other species are abundant in the area. We look forward to showing your family what the western mountains are all about.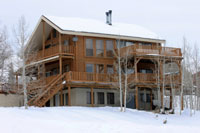 In the winter these trails become perfect for snowmobile expeditions and adventures. Scofield is our area of choice for most of our winter Trainings and Adventures, boasting not only snowmobiling, but cross-country skiing, snowboarding, snowshoeing, sledding, and ice fishing.
The cabin at Scofield has three levels with five private bedrooms and a loft bedroom, as well as three bathrooms. Two large family rooms give plenty of room to stretch out. A large deck wraps around three sides of the cabin and is a wonderful place to relax and look out over the valley and the lake. A fire pit provides a great setting for evenings spent under the stars visiting around the fire.
Note: For some Youth Trainings participants might be housed in spacious and comfortable safari-style wall tents. These large tents with lights and comfortable beds are also available for families wishing to "spread out" or add an extra element of adventure to their experience.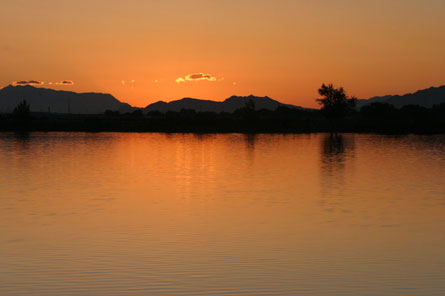 ---
Q: What about maps, directions, and other travel advice?
A: We will provide detailed maps and directions to those driving to the facilities, whether from their homes or from an airport. For those flying into Utah for the vacation and training, we can also make arrangements to pick the family (or couples or youth) up at the airport and transport them to the cabin and back to the airport.
Get an idea of directions and areas of our facilities from MapQuest about Delta, Utah or Scofield, Utah.
---
Q: What might we expect as we spend the week at a LIFE Trainings and Adventures family retreat?
A: We customize every adventure and training for each individual family. Working with the family before they come to the retreat we help them assess family strengths as well as areas of concern. From those assessments we build a training program and schedule that will provide the ultimate training experience for the family, while also supplying a fabulous and memorable vacation.
Also before their retreat begins we work with the family on selecting many of the activities that will be a part of their vacation experience. While the peace and beauty of nature are the main draws for families, most of them also get excited about participating in some of the more "exotic" activities that they might have never experienced before, such as ATV's, snowmobiles, horseback riding, wave runners, and the power boat towing sports. So we help the family choose several of those, and other activities, that best fit the family, their ages and preferences.
Each day during the adventure and training it is the goal of LIFE to help the family create a cohesive and unified experience that will provide a world-class vacation experience integrated with a unique and effective training program that will serve the family forever.
For example, one morning might find the family working with staff facilitators on learning the skill and principle of Problem Solving through discussion, experiential exercises, and goal setting. When that session ends the training does not. Only the venue changes as the family experiences perhaps an ATV safari or a horseback expedition where the natural occurrences and processes of the activity will supply a series of opportunities to confront and solve obstacles and issues, thus moving the Problem Solving principle from the theoretical world to that of real life.
Similar seamless training and vacation activities will be built around other principles such as Communication, Accountability and Leadership, among others.
Later that evening the family might enjoy a luau with traditional Polynesian food, music, and dancing. The day might end with songs and stories around the campfire, or with a spiritual Vesper Trail.
Throughout the day there will be significant free time for relaxing and/or participating in any of dozens of activities, whether individually or as a family.
Fun, learning, and family bonding are the rule of the day. Boredom is never an option!
---
Q: LIFE utilizes Experiential Training methods as part of its foundational training methods. Why is that?
A: Every learner has their own "preferred learning style." LIFE recognizes that reality and embraces the diversity of families and their melting pots of preferences, experiences, sexes, motivations, and psychological makeup.
Your family (the same holds true for Youth and Couples trainings) will experience many different styles of teaching and training during your time with us. There will be moments of "seminar style" training with a trainer, a whiteboard, notebooks, and all the other trappings of traditional education. There will be one-one-one mentoring sessions with staff members. There will be bio-feedback sessions designed to help family members get better at understanding their minds and bodies and how to maximize their effectiveness. There will be team challenges that your family will enjoy meeting and overcoming.
But the training does rest on a foundation of experiential training in which our main objective is to inspire the family to learn and internalize; and to guide them through the process of evaluating what they have learned and what it means to them, and how they can most effectively profit from the learning experience in their lives.
Experiential training is a highly respected form of teaching/learning, accepted by educators and social scientists the world over as perhaps the most effective means of teaching groups and individuals and building successful teams (families).
Our facilities and vacation/adventure experiences are perfectly suited to provide a never ending flow of experiential learning experiences. While most educational and training facilities are forced to solely use contrived games, puzzles, etc. as the experience part of their curriculum, LIFE has the luxury of using campuses that cover thousands of acres and of offering activities and experiences that are unrehearsed and real life to generate the opportunities to lock in learning through doing, evaluating, and processing.
Our staff members know how to observe and recognize when those perfect teaching/learning moments present themselves, whether in the midst of an ATV Safari or in a quiet moment around the campfire. These are the lessons that will never be forgotten and will serve your family forever.
---
Q: What can my family expect in the area of food and dining?
A: At LIFE we understand that part of the pleasure of a family vacation is experiencing great food prepared by somebody else. We've got you covered. Our staff will provide you with three great meals every day as well as a never ending supply of snacks and beverages to help keep your energy up.
While our cabin facilities might be in rustic surroundings they do have full kitchens as well as Dutch oven pits, barbecue grills, and everything else necessary to keep your taste buds and appetites well satisfied.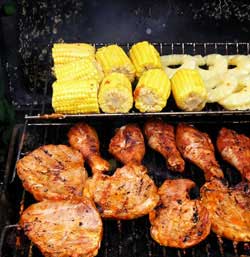 Working with your family before your Adventure we will help you select many of your own menu items, addressing any special needs or requests. Long-time favorites of our guests include the Kalua Pork served at the Luau, and the grilled steaks and barbecued chicken served on the deck overlooking the lake. You can be assured that all menus are well balanced and will help your family stay sharp physically and mentally.
Snacks will range from healthy fresh fruits and vegetables to more decadent candy bars and ice cream treats. There will always be refrigerators full of sodas, water, and juices.
Please note that as alcohol has been shown to detract from the effectiveness of the training, the facilities are an alcohol-free area.
(Menus and dining themes for Couples Retreats and Trainings will vary according to locations and themes of the Retreats. Couples can expect excellent and healthy dining experiences no matter the locale of the training.)
---
Q: Are there any child care options for families with small children?
A: While the family will be divided in appropriate sections of the training (for example mom and dad will have the opportunity to participate in a parenting training module), and while there will be free time when family members can choose individual activities, it is our goal to keep the family together through significant parts of each day.
Many of our guests do have children too young to engage in some of our offered activities. Family ages and preferences will certainly play a part in which activities and adventures you select for your retreat, but should you select an activity that would preclude participation by younger children, our staff is prepared to offer those children alternate supervised activities. Such staff care will also be offered during appropriate parts of the training when caring for a little one might be distracting to the rest of the family.
---
Q: Some families have members with special needs. How are those handled?
A: Again, during the assessment conducted with the family before their arrival we determine any special needs that we deserve to be aware of. These might include health issues and other physical or mental limitations of certain family members or, in some cases, behavioral and relationship issues that staff should be made aware of.
Our staff includes a licensed nurse as well as staff members trained in first aid and CPR; and staff with experience in dealing with people that have various physical, mental, and behavioral challenges.
Guest families should be aware that our training is designed to encompass their real family with all of its challenges and opportunities for growth and healing. Thus, while special arrangements and/or activities might be appropriate in certain instances, they would be the exception rather than the rule.
---
Q: How close are the facilities to towns, and will there be opportunity to visit "civilization" during the training?
A: The Delta cabin is about three miles from the farming community of Delta, a town of about 3,000 residents. The Scofield property is more remote with Price being the nearest town of significant size, about 45 minutes away.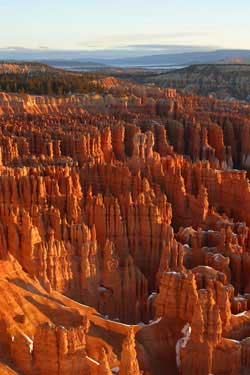 While your family's customized training and vacation program might include activities in a town, we generally encourage families to plan visits to towns and/or other areas of local interest outside of the designated training week.
If you have time to spend before or after your adventure and training with us, our staff will be happy to assist you in planning visits to other wonderful Utah destinations, whether one of our six National Parks, or to Salt Lake City and all its sights and experiences.


Directory World An ever growing human-edited website directory with quality categorised listings.